Nobl9 now offers a Free and Teams Edition of their platform that replaces Hydrogen. Learn more at Nobl9.com/Pricing.
Happy New Year! 2021 was a big year for Nobl9, and I wanted to recap some of the amazing things we did last year.
The adoption of SLOs has been growing exponentially. In 2021, SLO usage started to take off. In 2022, every company will be looking to create and use SLOs to measure their reliability.
With accessible resources like Google's Site Reliability Engineering book and Alex Hidaglo's Implementing Service Level Objectives bringing SLOs into the mainstream, companies are realizing their benefits and searching for tools to create, visualize, and share their SLOs. Nobl9 has not only created the world's first SLO platform, but we've been investing heavily in making it the best tool to manage SLOs. It's been a fast-moving year, and I want to share some details about Nobl9's journey over the last 12 months.
"The adoption of SLOs has been growing exponentially. In 2021, SLO usage started to take off. In 2022, every company will be looking to create and use SLOs to measure their reliability."
We started the year out with a bang by announcing our Series B funding, and in February released Nobl9 SLO Platform to general availability. We were the first company to solely focus on SLOs, and from a feature perspective, we delivered an amazing platform. Q2 2021focused on expanding our integrations for data sources and alert methods, going from 5 to 20. These now include popular monitoring tools such as AppDynamics, Dynatrace, Graphite, Lightstep, Splunk Core, Splunk Observability, and ThousandEyes. For alert integrations, we added Opsgenie, Jira, Discord, and ServiceNow. This was on top of our initial support for Datadog, New Relic, PagerDuty, Prometheus, and Slack. We also enabled the ability to export SLOs to Amazon S3, Google Cloud Storage, and Snowflake.
We made a big bet on investing in more and more integrations, which paid off. As we talked to customers, they would rattle off all the technologies they used and explain why it was hard to buy a tool and why they needed to build their own. Before Nobl9, no one was integrating with all the popular metric solutions and providing a single pane of glass through which to view all their metrics. Our aim is to make that possible.
In Q2, we hosted the first SLO Conference and had nearly 2,000 attendees. At SLOConf we announced the OpenSLO standard, and we continue to be one of the main contributors to the open-source project – it's really taken off, and we've gotten a lot of community traction and contributions. Thank you to all of those who participated in OpenSLO, and we look forward to working with you more in 2022!
Rolling into Q3, we kept moving and delivered the Service Health Dashboard, Role-Based Access Control, labels, support for Azure SSO and on-prem deployments, and integrations with Microsoft Teams, Jira, Grafana Loki, Google BigQuery, Elasticsearch, CloudWatch, and OpenTSDB.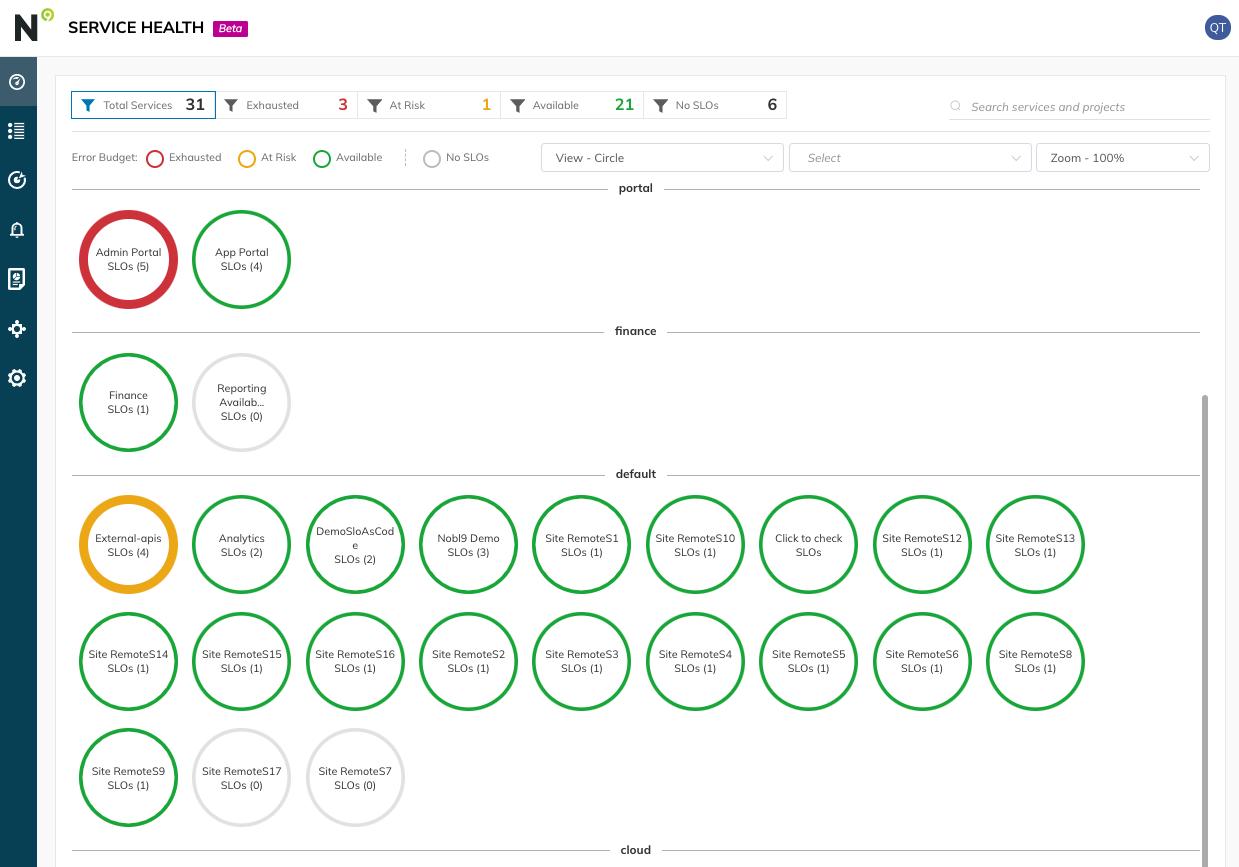 Q3 became a pivot point for us, as we are now "enterprise ready." Our customers were able to start using Nobl9, and it was rewarding seeing some top enterprises gravitate to our platform.
Q4 was just as busy, as we continued adding integrations with Pingdom, AWS Managed Prometheus, and CloudWatch Metrics Insight (as an AWS launch partner), and we extended our integration with ThousandEyes to support additional metrics.
We also launched Hydrogen, which comes with a 30-day free trial, added audit logging to enable customers to track all their events in Nobl9, introduced Drag to Zoom (which surprisingly is one of our customers' favorite features), and ended the year by providing support for adding annotations to SLI/SLO data.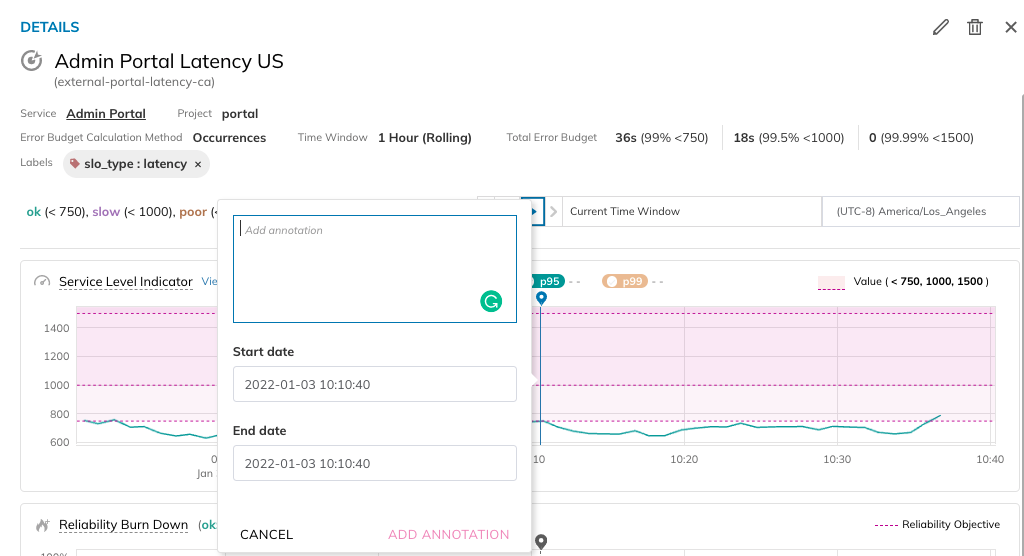 I'm personally most excited about our Hydrogen launch. We're now opening Nobl9 up to all users, not just enterprises, so anyone can come and sign up for a free trial.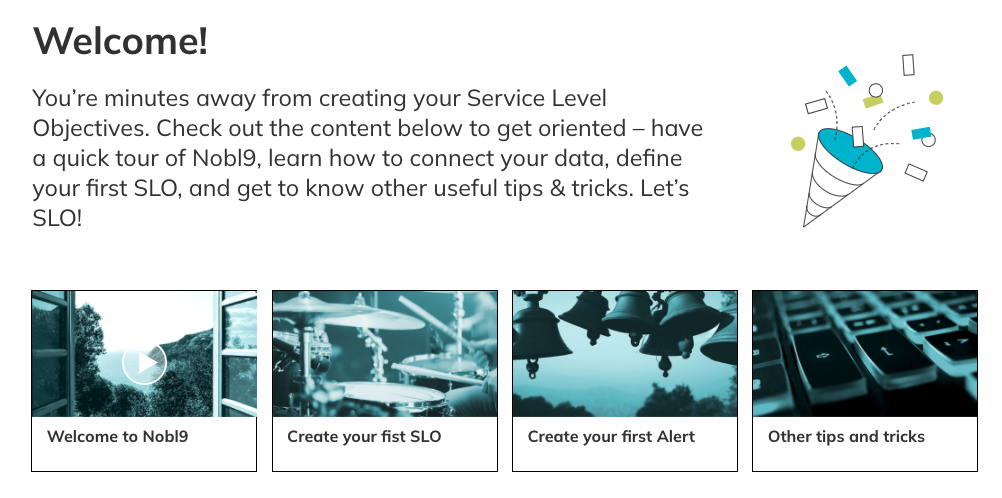 Looking back, I'm amazed at how much we achieved throughout 2021. On top of all our other accomplishments, we opened up a new engineering office in Poland, and since I joined in February we've doubled the size of the company. I was told that working at a startup is fast-paced, but this definitely exceeded my expectations – and Nobl9 continues to grow and is still hiring!
It's been a great year. We're eager to show the world what we have to offer and help you on your SLO journey. Try us out. Let us know what you think.
We fully expect to keep the momentum going into 2022, and will continue building and improving tools to help you easily create and manage your SLOs.
I hope everyone had a happy holiday season and was able to recharge and spend time with loved ones – see you all in 2022!
---
Image by Kalle Kortelainen on Unsplash.com