SLOconf season is fast becoming our favorite time of the year. The Nobl9 team has been working hard to deliver some great new capabilities for our customers in time for this year's conference.
Today, we'd like to share some enhancements to our Service Level Objective (SLO) platform that significantly improve how enterprises can deploy, use, and benefit from SLOs. The new features allow Nobl9 users to create a single SLO using multiple SLIs, integrate with existing development tools such as GitLab to enable SLOs-as-Code, and support new data sources.
One SLO to Rule Them All
With Composite SLOs (now in Beta), Nobl9 is extending the way SLOs are created by enabling customers to link several metrics into a single SLO and to create user journey SLOs. For example, in addition to creating an SLO for a piece of infrastructure or an SLO based on the latency of a shopping cart page, customers can use Composite SLOs to build an SLO focused on the end-to-end purchase experience.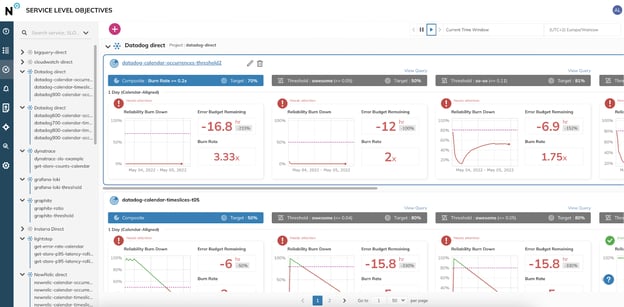 OpenSLO Converter
Nobl9 is also releasing an OpenSLO-to-Nobl9 converter. This will make it easy for customers leveraging OpenSLO to convert their OpenSLO YAML into Nobl9 YAML, which they can then directly import into Nobl9 using sloctl. Nobl9 launched OpenSLO last year and is a regular contributor to the open-source project.
More Integrations (Smarter SLOs)
Nobl9's list of supported data source integrations has grown to include the following recent additions:
GitLab - Nobl9 and GitLab have partnered to build a CI script to enable SLOs-as-Code for GitLab users. Customers using GitLab as their source repo can now check in their SLO YAML definitions with their product code, and the CI script will ensure any changes to the YAML are automatically pushed to Nobl9 (through sloctl). This guarantees that customers' SLOs will always be up to date and in sync with their products.
Instana - Instana's observability platform enables monitoring of infrastructure and application metrics. You can now leverage Nobl9 to build SLOs on top of your existing Instana metrics.
Sumo Logic - Sumo Logic provides log management and analytics, and those metrics can now be pulled into Nobl9 to create SLOs.
Pingdom Transactions - Pingdom support was added earlier in the year and has been extended to support Pingdom Transaction metrics. Customers can now build SLOs on a set of user actions recorded in Pingdom, instead of just monitoring uptime and availability.
Product Availability
The Composite SLOs feature is currently available in Beta to a select set of customers and will be available to all customers in a few weeks. All other new features described here are available now via the Nobl9 SLO platform. You can use the Nobl9 Free Edition to get started today at no cost.
---
Featured image via Håkon Grimstad