97 Things Every Cloud Engineer Should Know:
The Basics of Service-Level Objectives
Kit Merker, Brian Singer, and Alex Nauda of Nobl9 recently contributed to the new O'Reilly book titled, "
97 Things Every Cloud Engineer Should Know
." They contributed a chapter that provides a quick and straightforward introduction to creating and managing service level objectives (SLOs).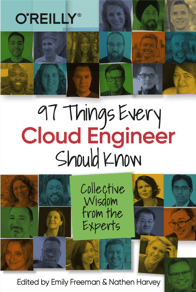 The chapter (#44), titled "The Basics of Service-Level Objectives," begins with an overview of reliability, customer happiness, error budgets, and the concept of "nines." The chapter addresses all the reasons why well-designed SLOs are a cloud engineer's best friend. SLOs protect customer happiness, deliver business impact, and serve as a common language between the organization's business and technical stakeholders.
This is the third O'Reilly publication that the Nobl9 technical team has contributed to. Check out Alex Hidalgo's book, "Implementing Service Level Objectives," as well as "97 Things Every SRE Should Know," to which he contributed three chapters.
Use the interface on the right to download our chapter, compliments of Nobl9. If you like what you're reading, pick up your copy of "97 Things Every Cloud Engineer Should Know," and let us know what you think on Twitter.
Nobl9 is committed to protecting and respecting your privacy, and we'll only use your personal information to administer your account and to provide the products and services you requested from us. From time to time, we would like to contact you about our products and services, as well as other content that may be of interest to you. If you consent to us contacting you for this purpose, please tick below to say how you would like us to contact you:
You can unsubscribe from these communications at any time. For more information on how to unsubscribe, our privacy practices, and how we are committed to protecting and respecting your privacy, please review our Privacy Policy.
By clicking submit below, you consent to allow Nobl9 to store and process the personal information submitted above to provide you the content requested.
Try NOBL9 Hydrogen for free or get in contact with our specialists