Nobl9 now offers a Free and Teams edition that replaces Hydrogen. Learn more at Nobl9.com/Pricing
Today we announce Hydrogen, a simplified self-service SLO platform to help teams quickly tackle technical debt and operational toil so they can get back to shipping meaningful features.
Let's face it: engineers quit over on-call frustration. They toil over noisy alerts and late-night pages – pager fatigue is real. Meanwhile, it seems the organization never gets around to fixing the technical debt created with every release, and any ideas generated from an incident retrospective are forgotten in the next feature sprint.
Hydrogen lets you define SLOs through a simple wizard or SLOs-as-code that are part of your GitOps process.
But there is a way to break the cycle, by using service level objectives (SLOs). Over the past two years, we have built a complete SLO platform that is helping enterprises address reliability issues, better manage complex operational tasks, deliver better software, and achieve clear alignment between business and technical stakeholders. One of the transformative outcomes of adopting SLOs is optimizing technical debt: this is a byproduct of better conversations in planning, retrospectives (or "postmortems"), and feature development.
With Hydrogen, the power of SLOs is now available to teams of any size. You can get up and running quickly without making an upfront financial commitment and start reaping the benefits of SLOs immediately.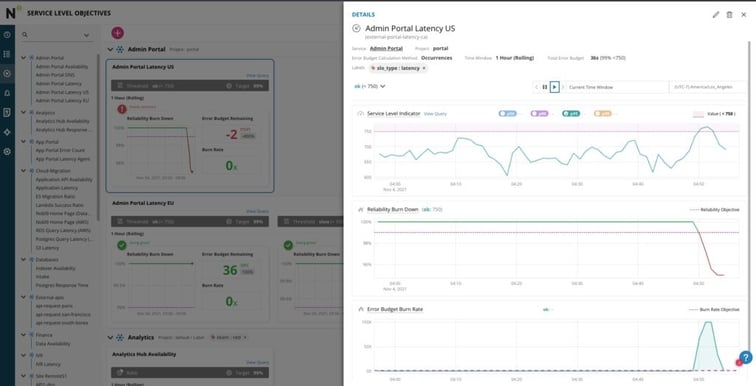 Why "Hydrogen"?
Nobl9 has always used the noble gases as code names for our releases. We began with Helium, then delivered Neon and now Argon for our enterprise customers. Hydrogen is similar to Helium, except it explodes – and that's what we hope will happen to SLO adoption with this release.
What's in the Box?
Hydrogen lets you define SLOs through a simple wizard or SLOs-as-code that are part of your GitOps process. You can use data from many popular data sources and alert destinations, including AWS CloudWatch, Datadog, New Relic, Prometheus, Splunk, and many more, with no need to add new instrumentation. Hydrogen runs as a service and can be set up in a matter of minutes. You can find pricing details at nobl9.com/pricing.
Give Hydrogen a Spin
Go to nobl9.com/hydrogen to get started and try it for yourself. We offer a 30-day trial period with no credit card required. If you want any help getting started, drop us a line. Let's SLO!