451 Report: Nobl9 automates SLO and error budgeting
The Importance of Service Level Objectives
Site Reliability Engineering has introduced many organizations to the concept of Service Level Objectives and Error Budgets.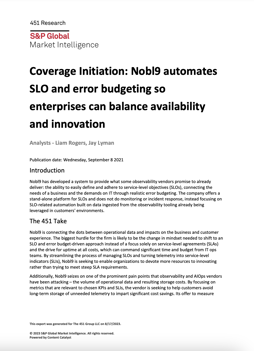 Nobl9 aims to help organizations adopt the SLO framework by streamlining the SLO creation process and making it simpler to monitor whether the objectives are being met.
SLOs are essentially a target set for a given system's desired availability over time. Tracking SLO adherence is dependent on SLIs, which are a way to measure if an SLO is being met or not. If a system or service is not meeting its SLO, there are consequences such as performance degradation, outages, or impact on customers. SLOs balance the possible negative repercussions and the lack of availability to determine a reasonable uptime goal for that service, with the downtime afforded in that SLO as the error budget.
451 Research Group's analysis of Nobl9 offers an objective guide to the SLO market.
Get the report to understand better:
An overview of this emerging market.
Why the enterprise IT market has grown apathetic to SLAs.
Why the SLO approach may appeal to DevOps and developer teams.
How Nobl9 simplifies the process of creating and maintaining SLOs.
Nobl9 is committed to protecting and respecting your privacy, and we'll only use your personal information to administer your account and to provide the products and services you requested from us. From time to time, we would like to contact you about our products and services, as well as other content that may be of interest to you. If you consent to us contacting you for this purpose, please tick below to say how you would like us to contact you:
You can unsubscribe from these communications at any time. For more information on how to unsubscribe, our privacy practices, and how we are committed to protecting and respecting your privacy, please review our Privacy Policy.
By clicking button above, you consent to allow Nobl9 to store and process the personal information submitted above to provide you the content requested.