The DevOps Institute recently released a report titled, "2020 Upskilling: Enterprise DevOps Skills." Several aspects of the report are worth amplifying, and I've summarized the elements I found most compelling.
Global GDP Going Digital
According to the World Economic Forum, by 2022, over 60% of global GDP will be digitized. An estimated 70% of the new value created in the economy over the next decade will be based on digitally-enabled platforms. Welcome (again!) to the Fourth Industrial Revolution. While organizations are transforming towards digital operating models, challenges of speed and scale of technological advances, IT budgets, and a huge skill gap are causing a slowdown of this fourth Industrial Revolution.
Talent Shortage on the Horizon
A recent study by the Society for Human Resource Management reports that 83% of the respondents had difficulty recruiting a suitable candidate in the past 12 months, with the biggest skill gap in tech talent.
Site Reliability Engineering (SRE) has risen from 10% adoption in 2019 to 15% in 2020.
Finding and attracting skilled people continues to be a challenge in 2020. Still, the number one challenge is finding and attracting skilled DevOps people. 58% of respondents said that finding skilled individuals is a challenge, whereas 48% say the retention of skilled DevOps individuals is a challenge.
Key Distinctions Between 2019 and 2020
The category of process skills and knowledge moved into first place, ahead of automation skills, in 2019. In addition, DevOps adoption, Agile, and SRE have all gained in their percentage for must-have skills, and the DevOps Engineer role title has almost doubled in popularity. Governance, risk, and compliance/audit have increased its must-have skill vote by 4%, and interpersonal skills have risen from last year's third spot in must-have to this year's second spot. CI/CD toolchain knowledge is still a must-have skill, as well as collaboration and cooperation which are still the top must-have human skills. Despite all this, external recruiting still seems to be the predominant hiring model.
SRE specific highlights
Today, 15% of IT enterprise organizations have adopted the Site Reliability Engineering (SRE) practices, a method first used by Google to "protect, provide for, and progress the software and systems behind all of Google's public services — Google Search, Ads, Gmail, Android, YouTube, and App Engine, to name just a few — with an ever-watchful eye on their availability, latency, performance, and capacity." SRE people have IT operation skills which we know is a top must-have skill in the functional skills category. This is a tremendous increase from last year, which also explains why SRE skills are a must-have skill for 28% of respondents.
SRE has risen from 10% adoption in 2019 to 15% in 2020. The rise in SRE shows that IT operation processes and service health are critical parts to consider before services are released and while products are being planned—not just an afterthought. Working proactively and including the developer in the responsibility of updating services in production are tearing down silos of the past.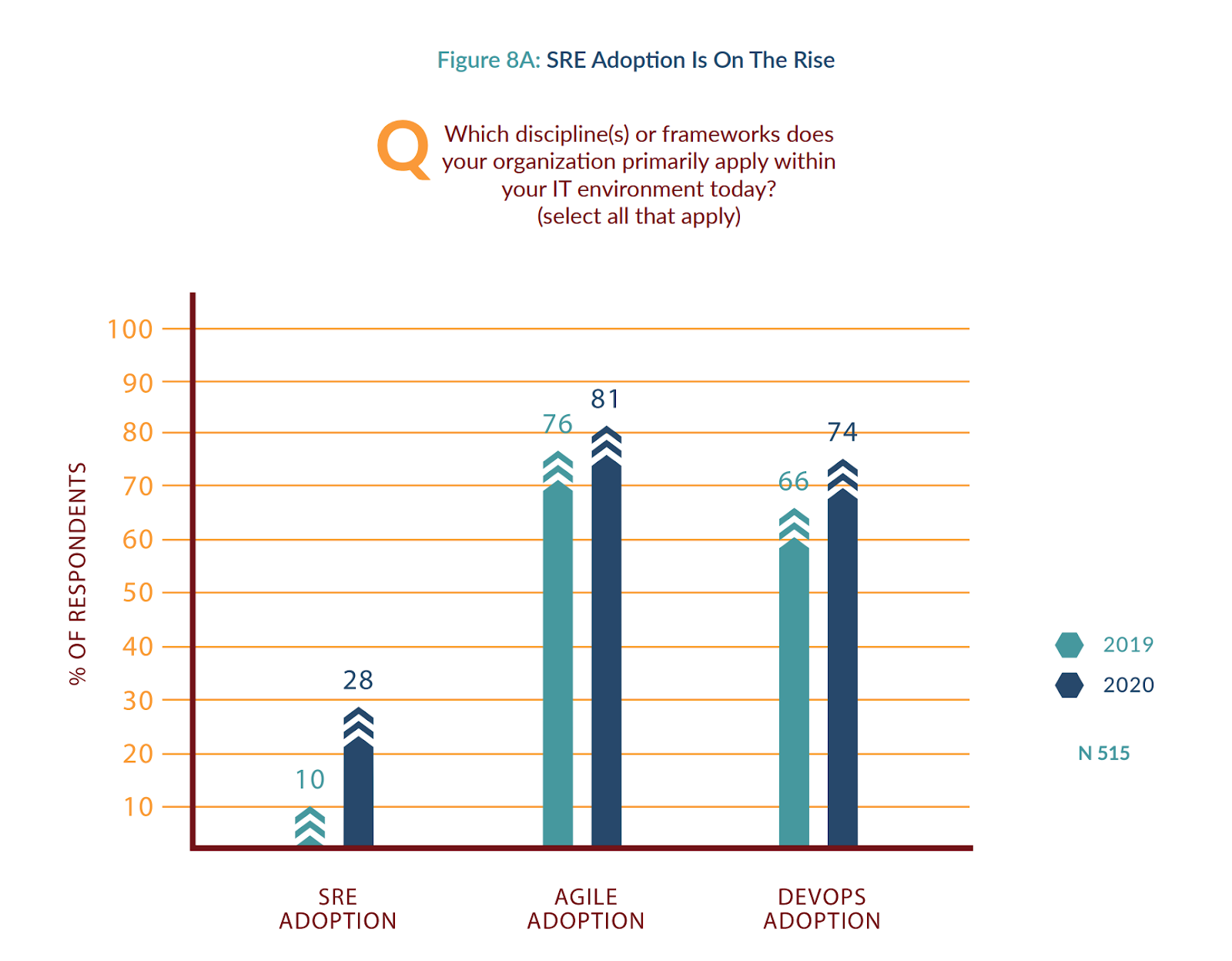 Continuous technological innovation to force technical skills into constant flux
Technical people need to keep up with constantly changing tools and technologies. But everyone needs to be able to adapt to changes in their work and, in the longer term, to reskill and pivot to new roles over the course of their careers. This is especially true when technology is rapidly changing. 90% of the data in the world was created within the last two years. Artificial Intelligence (AI) can now detect more than 50 eye diseases better than a doctor. 5G is no longer a potential future, but the reality in more than 13 countries in the world.
There's a lot in the full report, which you can download here. Give it a read, then meet me on Twitter at @jenn_ordonez or on LinkedIn to share what you found most interesting.
---
Image Credit: Ramón Salinero on Unsplash